Green Stencil Program
Maxell promotes afforestation activities as part of its environmental initiatives.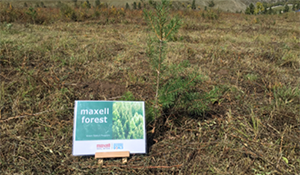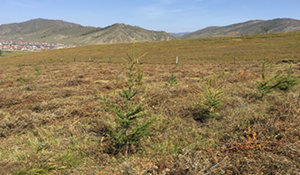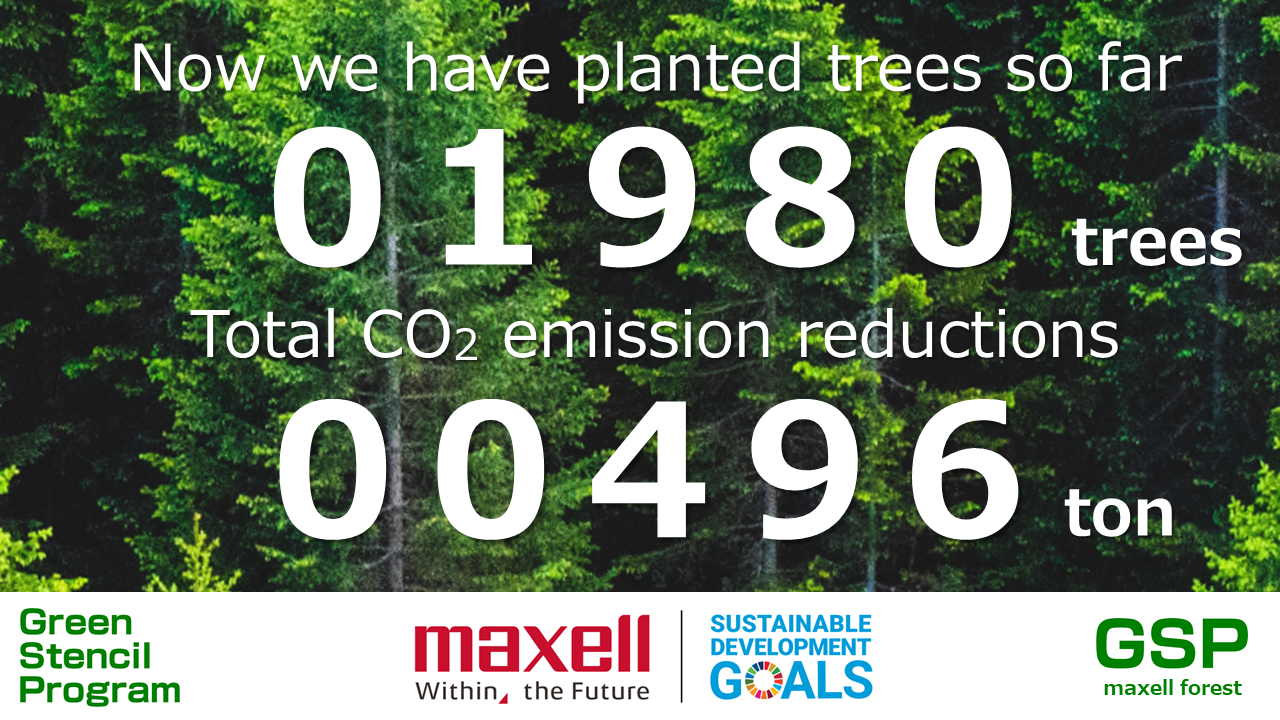 These photos are as of October, 2022.
What is "Green Stencil Program"?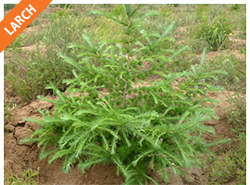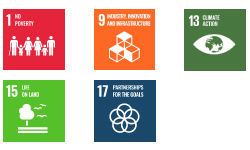 Maxell will donate a portion of sales of electroforming products developed and manufactured with Maxell's precise Electro Fine Forming technologies called "EF2" to plant trees. Maxell has named this program the "Green Stencil Program".
The consulting company for the tree planting is CARBON FREE CONSULTING CORPORATION. Maxell will plant larch trees in designated areas under their management. A standard-sized larch can absorb about 250㎏ of CO2 over 30 years.∗
This program started in April 2021, and the results of carbon offsetting will be sequentially posted on our website.
We will start with the Mongolian region, however we will consider not only planting trees in this region but also in other regions.
∗ Citation from the web page of Carbon Free Consulting corporation
Current forest situation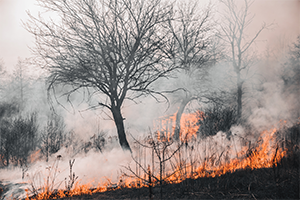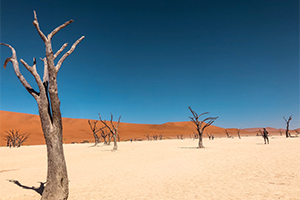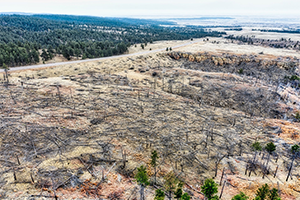 Due to the effects of climate change, increase in forest fires and desertification.
Deforestation caused by plantations and other activities.
An increase in abandoned forests due to the decline of forestry.
The significance of afforestation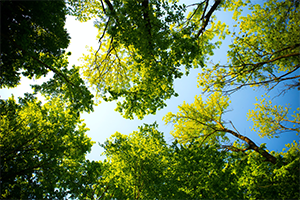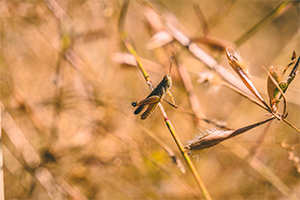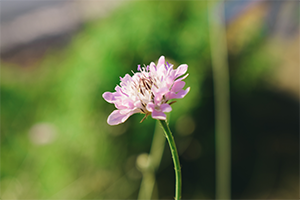 Increasing forests and absorbing CO2 in the atmosphere contribute to mitigating climate change.
Afforestation contributes to the conservation of natural environment and preservation of biodiversity.
Afforestation contributes to the revival of forest economy.
Afforestation activities in Mongolia.
Maxell is promoting afforestation in Mongolia first through commissioned companies.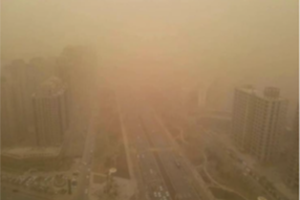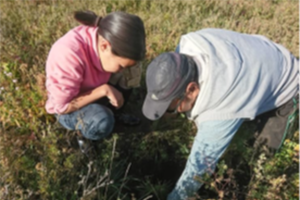 Measures against desertification.
About 90% of Mongolia's land has a risk of desertification, and even in areas where afforestation is being promoted, deforestation for timber production had led to desertification. In 2009, the "Forest Law" was enacted, which included a ban on illegal logging, and with the efforts of local community groups for nature conservation, illegal logging has disappeared. However, the revival of forests remains a challenge.
Corporate Sustainability Vision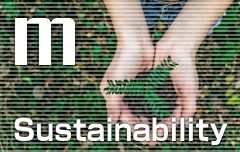 The Maxell Group has formulated its Corporate Sustainability Vision for "Contributing to the Earth 100 years from now" through its mission: "Contribute to a sustainable society by innovating unique, original technologies."
FY2021, we achieved 36.3% reduction in CO2 emissions compared to the FY2013. Maxell is targeting 50% reduction in CO2 emissions by 2030 compared to FY2013.
Currently we have established specific action plans through to 2030, and plan to continuously promote steps that will boost the possibility of achieving the target.
Activities and Achievements for Realizing a Low Carbon Society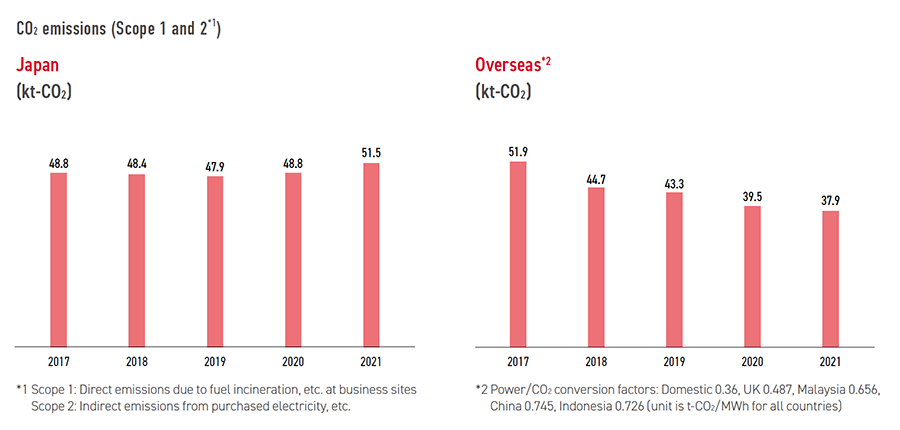 Maxell Group is promoting initiatives to conserve electricity, such as turning off lights, growing "green curtains" of plants, replacing air conditioners and lights, efficiently operating equipment by managing demand, and creating visualizations of power consumption patterns.
In addition, Maxell participated in the Carbon Neutral LNG Buyers Alliance as part of its new efforts to reduce CO2 emissions, and began introducing carbon neutral LNG at Kawasaki Works.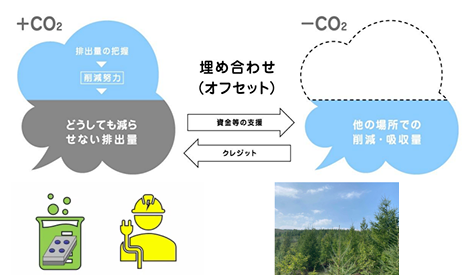 Electroforming products require electric power and emit CO2 in the manufacturing process of plating and growing metals.
We would like to work together with our customers in Asian countries that use electroformed products for manufacturing to improve environmental problems for the next 100 years.
We will further reduce and absorb the amount of CO2 emissions that we cannot reduce even if we make efforts to reduce CO2 emissions by investing in afforestation activities, which we call "carbon offset".
We are planning additional measures to achieve virtually zero CO2 emissions by 2050.
In addition, Maxell signed the United Nations Global Compact(hereinafter referred to as UNGC) proposed by the United Nations and was registered as the participant company on February 19, 2021. Maxell also joined to "Global Compact Network Japan (GCNJ)" that consists of Japanese companies who signed UNGC.
Through the active implementation of the Ten Principles of the United Nations Global Compact, UNGC is an international initiative that contributes to the realization of a sustainable global society by building platforms for companies and organizations in Japan and overseas to jointly create the will and actions to achieve SDGs.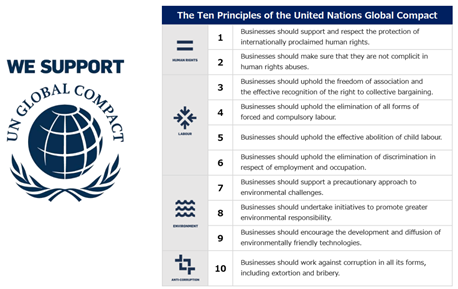 Maxell supports the ten principles set forth by UNGC, consisting of "human rights," "labor," "the environment," and "anti-corruption," and will continue to engage in activities in various fields.
Introduction of plant trees consulting company

Carbon Free Consulting Corporation
Head Office: 6th Floor, Oak Sakuragicho Building, 6-113 Aioicho, Naka-ku, Yokohama
Overseas Office: Hohhot City, Inner Mongolia Autonomous Region, China
URL: http://carbonfree.co.jp/english/
∗Connect to the external link.
Projects: http://carbonfree.co.jp/english/project.html
∗Connect to the external link.
Objectives of the company's tree-planting activities
Absorption of CO2 by forests
Preventing the expansion of deserts
Preventing the arrival of yellow sand
Creation of local employment
Environmental education
Supplement
Many overseas support achievements