Oxygen Sensors / Lead-Free Oxygen Sensors
Oxygen Sensor Overview

Topics
   Apr. 13, 2021 News  KE-25F3LFM (Lead-Free, Suitable for medical devices) Added to lineup
   Jan. 20, 2021 News  KE-12LF, KE-25LF, KE-50LF (Lead-Free Oxygen Sensors KE-LF Series) Added to lineup
Complete immunity to CO2

Extremely long life (2.5 to 10 years)

Stable output voltage
No external power supply is required for sensor operation
Operates at room temperature
No warm-up time required
Applications
Widely used in applications such as combustion gas monitoring, biotechnology equipment, food storage, and education.
Environmental controls
Combustion gas monitoring / Weather meter
Biotechnology
Oxygen incubator / Anaerobic bacteria cultivator
Food industry
Refrigerators / Food storage units / Plant factories
Health equipment
Oxygen capsule
Security
Air conditioning and oxygen deficiency monitoring systems
Basic structure of the sensor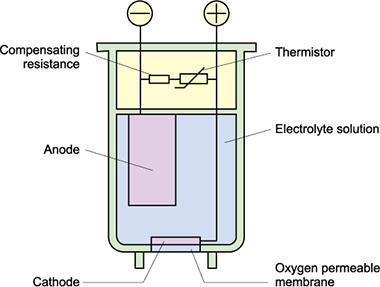 The galvanic cell-type oxygen sensor consists of a cathode, anode, electrolyte solution, and oxygen permeable membrane, similar to a metal-air battery. The sensor's oxygen permeable membrane is integrated with the cathode and greatly limits the amount of oxygen reaching the cathode.
In the oxygen sensor, the small amount of oxygen that permeates through the oxygen permeable membrane is reduced on the cathode, and the current generated between the cathode and the anode is converted to voltage by the compensating resistance built into the sensor.
Since there is a proportional relationship between the oxygen concentration (strictly speaking, oxygen partial pressure) of the atmospheric gas and the converted voltage, the oxygen concentration can be determined by measuring the voltage of the sensor.
Model
KE-25LF
KE-25F3LF


NEW

KE-50
KE-50F4
KE-25
KE-25F1
KE-25F3
KE-25F4
KE-12
KE-12F3
SK-25
Features
RoHS2 compliant
(Lead-free)
Long life
Standard product
High accuracy and
fast response time
Very fast response time
Compact size
High accuracy and
fast response time
Measurement range
0 ~ 30% O2
0 ~ 100% O2
0 ~ 30% O2
Accuracy


(%Full Scale)

± 1%
± 2%
± 1%
± 1%
± 1%
Operating pressure range
811~1216 hPa
Operating temperature range
5 ~ 40℃
90% response time
Approx. 15 sec.
Approx. 60 sec.
Approx. 15 sec.
Approx. 5 sec.
Approx. 15 sec.
Life expectancy *
Approx. 90×104 %h
Approx. 180×104 %h
Approx. 90×104 %h
Approx. 45×104 %h
Approx. 45×104 %h
Approx. 5years at 20℃ air
Approx. 10years at 20℃ air
Approx. 5years at 20℃ air
Approx. 2.5years at 20℃ air
Approx. 2.5years at 20℃ air
* Life expectancy when the product is used at 20˚C with a humidity of 60%RH and atmospheric pressure of 1013hPa, represented as a value of (Oxygen Concentration %) × (Time h)
Note) Product specifications are subject to change without notice.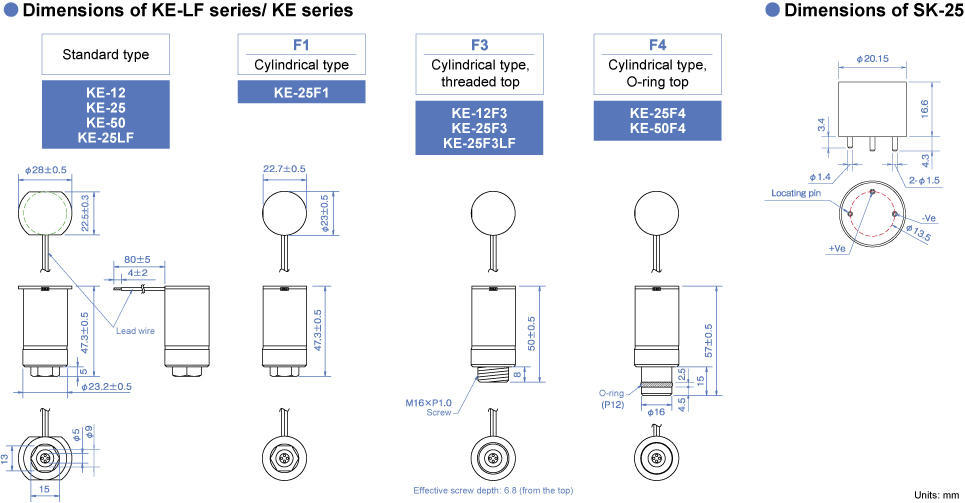 Note) All lead wire specifications for KE-LF series / KE series are the same. AWG-24 (Red: +Ve, Black: −Ve)
Q1.There are three types of KE series, but what is the difference?
Also, what is the difference from SK-25?
【A1】KE sensors differ in life expectancy and response time.
・The KE-50 has the longest life expectancy, followed by KE-25 and KE-12.
・The KE-12 has the fastest response time, followed by KE-25 and KE-50.
SK-25 is a compact size sensor. It can be used in the oxygen concentration range of 0 to 30%.
Q2.Do the oxygen sensors contain any substances banned by the European RoHS Directive?
【A2】In response to the growing need for RoHS Directive compliance, we have developed the KE-LF series, a lead-free oxygen sensor, as European RoHS2 Directive compliant product.
Q3.What is the tolerance range of the flow rate and pressure applied to the oxygen sensor?
【A3】Flow rate: 0.1 to 1 L/min Pressure: 811 hPa to 1216 hPa
However, if the flow rate or oxygen partial pressure changes with each measurement, the output will change even with the same oxygen gas concentration. For more accurate measurement, align the flow rate during calibration with the flow rate during measurement, and use the same pressure for each measurement.