Pipe & Wall Sealer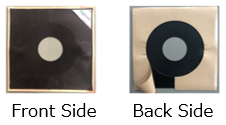 Pipe & Wall Sealer is an airtight and waterproof adhesive sheet to be applied to pipes that pass through the envelope of buildings. By integrating the rubber sheet and adhesive, it is easy and quick to use. As the structure integrates rubber and adhesive, construction time per pipe is shortened.
Inquiry about this product

The construction time of the pipe penetration can be shortened, as it is composed of rubber sheet and adhesive layer.
Excellent construction reproducibility
Because the construction method is simple, variations by worker are minimized.
Excellet air-tightness and waterproofness
By using a butyl adhesive and an EPDM rubber, excellent airtightness and waterproofness is achieved.
For airtightness of the air & water barrier sheathing around the area where pipes pass through
For airtightness of the vapor barrier sheet around the area where pipes pass through.
For waterproofing of the housewrap around the area where pipes pass through.
Comply with AAMA711-13 Level 3
Do not apply Pipe & Wall Sealer directly to skin or place in mouth as injury may occur.
Do not use for electrical insulation as Pipe & Wall Sealer is not designed for electrical insulation.
Pipe & Wall Sealer is not fireproof nor fire resistant. Do not use it for applications that require these properties.
Not for use in applications where exposed to sunlight, wind, or rain for 3 months or more.
Do not work or leave objects on paper liner since it is slippery.
If Pipe & Wall Sealer is cut or bent, and then applied, airtightness can not be ensured. Do not cut or fold.
Do not apply paint or adhesive over Pipe & Wall Sealer to avoid damaging existing adhesion.
Do not use Pipe & Wall Sealer for ducts having non-smooth surface or high temperature steam ducts. Use it for ventilation ducts, water or gas pipes.
Oil or solvent may deteriorate or swell the Pipe & Wall Sealer when adhered to it. Prevent these substances from making any contact.
Performance Characteristics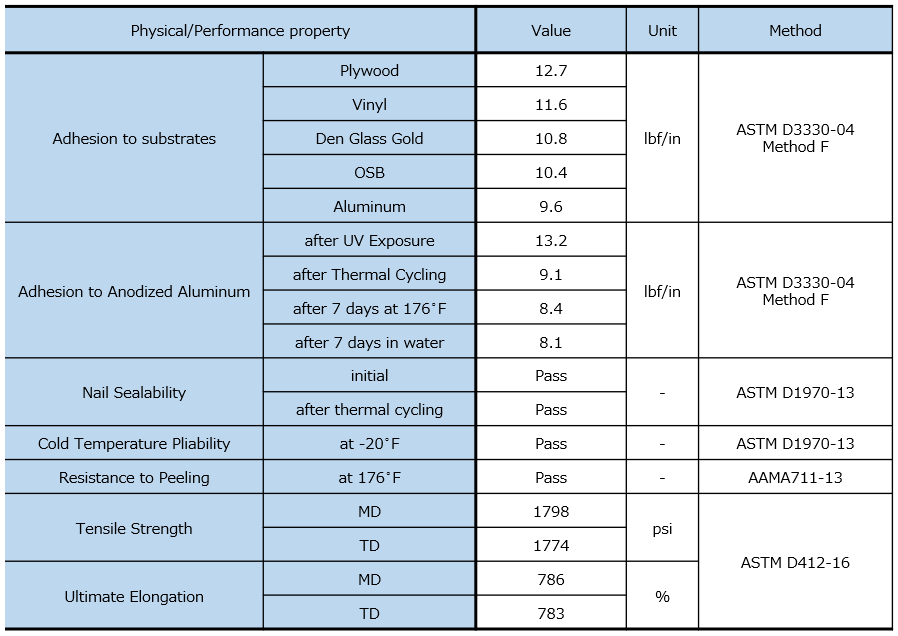 Prepare SPF with pipe, then attached the Pipe & Wall Sealer to SPF
Stick SPF to the chamber using caulking to avoid leaks.
Air flows from the inlet, and the flow rate is measured on the outlet side.
Air Sealing Performance is calculated by the following formula.
Air Sealing Performance (%) = Outlet Flow Rate(ml/min) / Inlet Flow Rate(ml/min) *100

The inlet flow rate was 1,000ml/min(≒100Pa)
Attach Pipe & Wall Sealer to the OSB at room temperature.
Leave the test specimen outdoor facing the southwest direction.
The surface of the test specimen is visually observed to check for any defect.
The installation location of the test specimen : Kanagawa, Japan(IECC climate zone:3C)
The installation duration of the test specimen : July 2019~June 2020