Air Sealing & Seam Tape
Overview
Air Sealing & Seam Tape is a single-faced adhesive tape of synthetic fabric backing which is coated by synthetic resin pressure-sensitive adhesive (PSA). It shows excellent effect for fixing of vapor barrier to create a continuous air barrier and reduces moisture intrusion and accumulation into the wall system. Since the bordering of white synthetic fabric is straight and hand-tearable, the workability is superior.
Product Structure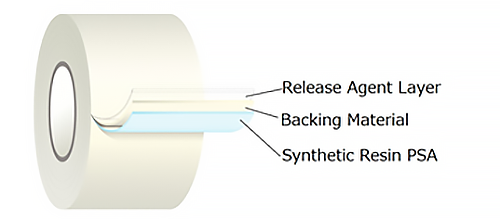 Thickness: 6.7mil (0.17mm)
Advantages
Excellent Air-tightness
  By using high performance adhesive, excellent air-tightness is achieved.
Excellent Workability
  The construction time can be reduced due to be rewound smoothly and hand-tearable.
Eco-friendly Products
  Since there is no release paper, on-site waste can be significantly reduced.
Application Examples
Joint tape for vapor barrier/retarder
Certification
Comply with the 2021 IECC of air permeance
Warning
This product is a tape for an airtight sheet joint. Do not use it for any other purpose (such as waterproofing or fixing heavy products).
Do not use this on PVC products (PVC materials) and human bodies (skin).
This should not be used for electrical insulation.
Please keep in mind that when the tape is applied and then peeled, this will leave an adhesive residue.
Warm the tape before using it because at low temperatures, it becomes difficult to stick.
Remove all dirt, dust, oil, and moisture from the surface before using the tape.
Firmly press the tape to obtain the maximum adhesive strength.
Store the tape in a cool location avoiding direct sunlight, any heat source such as heating apparatus, water leakage, and high temperature and humidity.
Performance Characteristics
Physical/Performance Property
Value
Unit
Method
Air Permeance
0.00003
cfm/ft2
ASTM E2178-13
Adhesion to substrates
SUS
5.4
lbf/in
JIS Z 0237(2009)
Vapor Barrier
5.3
lbf/in
Ball tack
18
Ball No.
JIS Z 0237(2009)
Tensile Strength
34.6
psi
JIS Z 1096(2020)
Unwinding Force at low speed
0.9
lbf/in
JIS Z 0237(2009)
Adhesive Force change by time