Air Sealing & Flashing Tape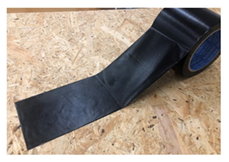 Air Sealing and Flashing Tape is a single-adhesive tape that makes airtight and waterproof for the sheathing joint. It is usable for all seasons since it can keep stable adhesive property in wide range of temperature by the characteristics of butyl adhesive. And, the workability is superior because it is hand-tearable, and without release liner.
Inquiry about this product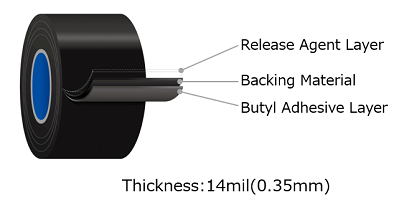 The construction time of the sheathing joints can be shortened, as it is easily rolled back and cut by hand.
Excellet air-tightness and waterproofness
By using a butyl adhesive, excellent airtightness and waterproofness is achieved.
As there is no release paper, no dust is produced on the site, making the product environmentally friendly.
For airtightness of the air & water barrier sheathing joint
For airtightness of insulation board joint
Comply with AAMA711-13 Level 3
Do not apply Air Sealing & Flashing Tape directly to skin or place in mouth as injury may occur.
Do not use for electrical insulation as Air Sealing & Flashing Tape is not designed for electrical insulation.
Air Sealing & Flashing Tape is not fireproof nor fire resistant. Do not use it for applications that require these properties.
Not for use in applications where exposed to sunlight, wind, or rain for 3 months or more.
Do not apply paint or adhesive over Air Sealing & Flashing Tape to avoid damaging existing adhesion.
Oil or solvent may deteriorate or swell Air Sealing & Flashing Tape when adhered to it. Prevent these substances from making any contact.
It is not intended for fixing objects. Please do not use it to secure objects on vertical surfaces or on the ceiling. When fixing objects that are subjected to load, be sure to use nails and screws, etc. to secure them.
Performance Characteristics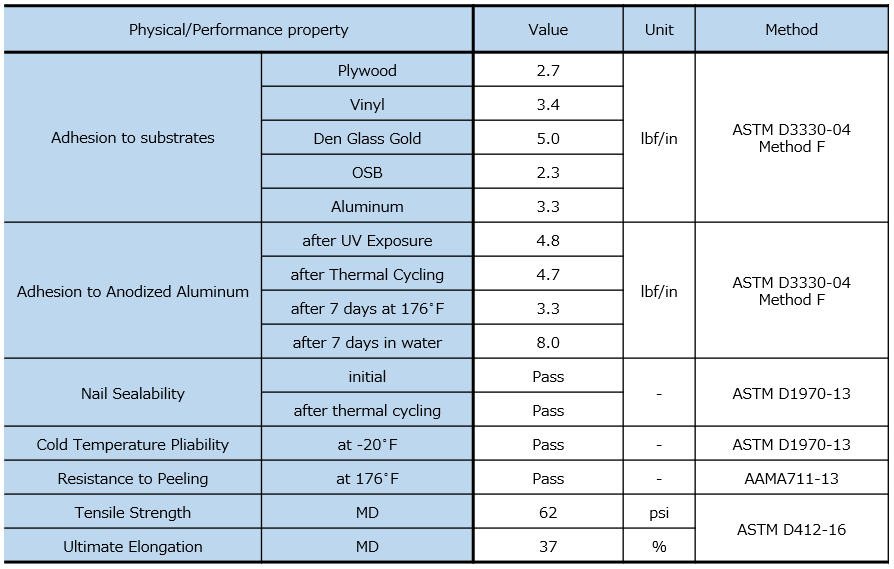 Prepare SPF with slit, then attached the Air Sealing & Flashing Tape to SPF
Stick SPF to the chamber using caulking to avoid leaks.
Air flows from the inlet, and the flow rate is measured on the outlet side.
Air Sealing Performance is calculated by the following formula.
Air Sealing Performance (%) = Outlet Flow Rate(ml/min) / Inlet Flow Rate(ml/min) *100