Transparent Conductive Inks
Maxell developed transparent conductive inks with bases of conductive polymer and metal oxide.
They can be applied to wet-coating and enable you to control surface resistance for a wide range. They can also be used for transparent electrode, EMI shield and anti-static applications.
Features of Transparent Conductive Inks
Maxell's ink can form a highly transparent conductive coat by dispersing nanosized particles uniformly.
Control of surface resistance in a wide range (102~1010Ω/sq) is possible with high transparency.
The refractive index of conductive coating is very close to that of substrate and adhesive.
Flexible coating structure enables flexible applications effectively.
We can adjust the high dispersion ink to meet with various wet-coating conditions.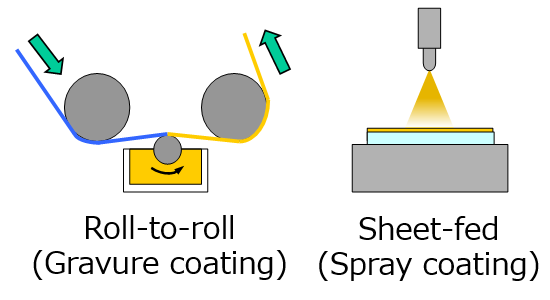 Properties
Item
Conductive polymer
(PEDOT)
Metal oxide
(ITO)※2
Metal oxide
(ATO)※3
Ink
properties
Viscosity(mPa・s)
2~40
2~20
0.5~20
pH
2~3
-
5~9
Solvent
Water/Alcohol
Ketone
Water/Alcohol
Coating properties
Surface resistance
(Ω/sq)
102~103
(proper value)
104~106
(proper value)
108~1010
(proper value)
Total light transmittance(%)※1
> 90
> 85
> 95
Haze(%)※1
< 1.0
< 2.0
< 0.5
Refractive index
1.4
1.6
1.5
Pencil hardness
H~3H
H~2H
4H
Substrate
Film(PET)、Glass
Ink particle structure
(TEM)


Polymer gel particle
(30nm)


ITO nano particle
(20nm)


ATO nano particle
(20nm)

Cross-section of coating
(SEM)
※1 Total light transmittance and haze data are only the conductive coating.
※2 Under review the ink composition.
※3 Under development solvent-free and UV-curable type.
Adoption results "light blue hatching"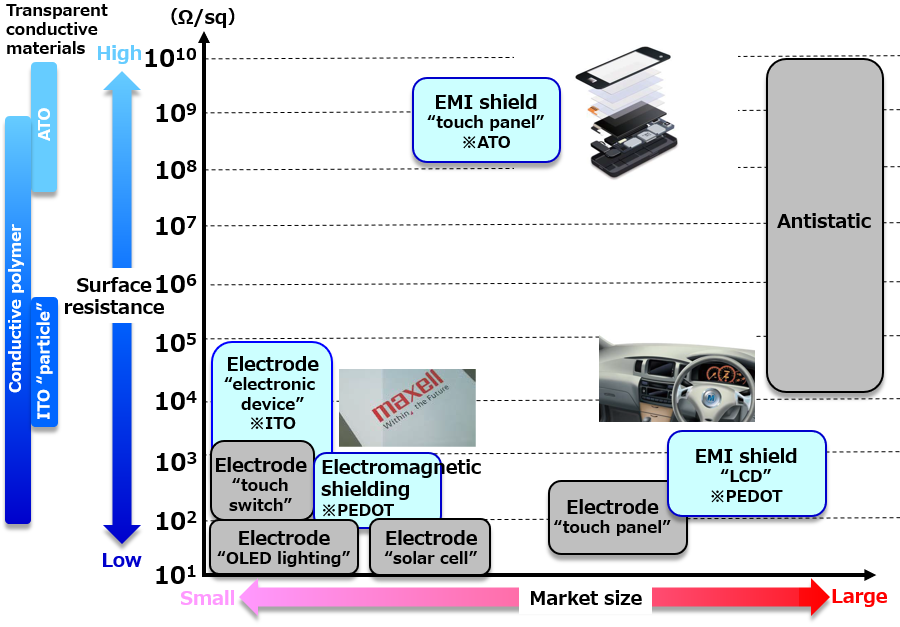 Conductive polymer "PEDOT"
Transparent conductive material of dispersed nanosized polymer particle
Adjustable ink composition to various wet coating conditions
Controllable surface resistance subject to coating thickness
Refractive index of conductive coating being very close to that of substrate and adhesive
Flexible coating structure enables flexible applications effectively
Ink properties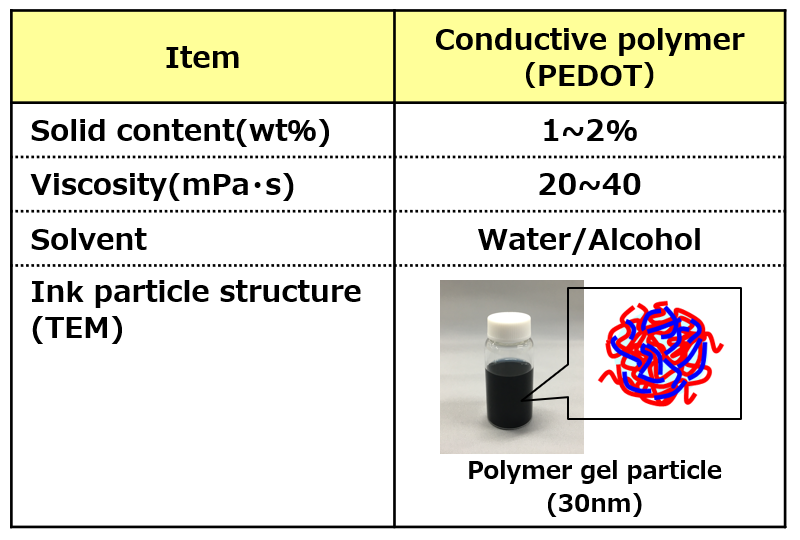 Coating properties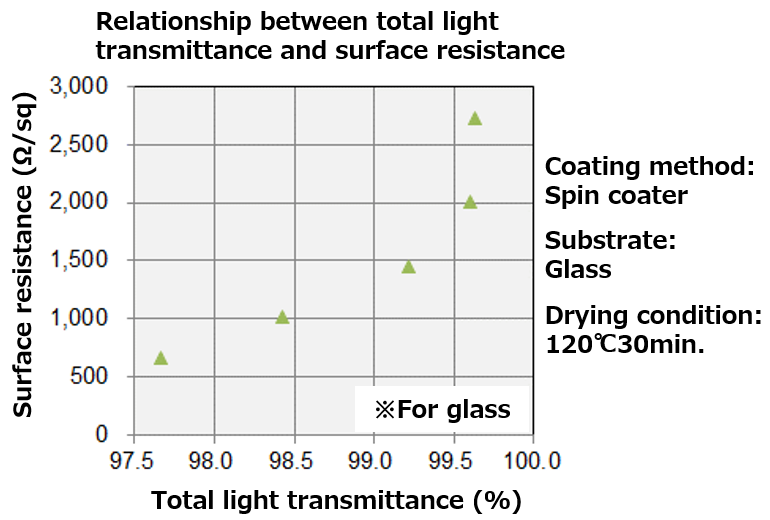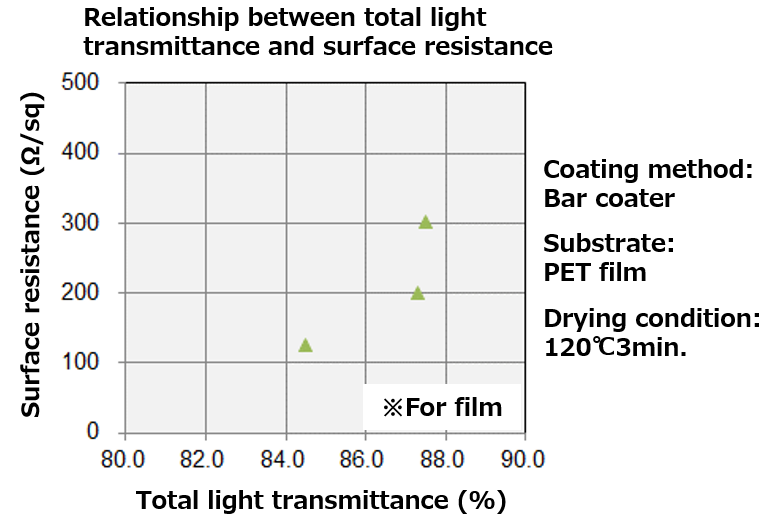 Reliability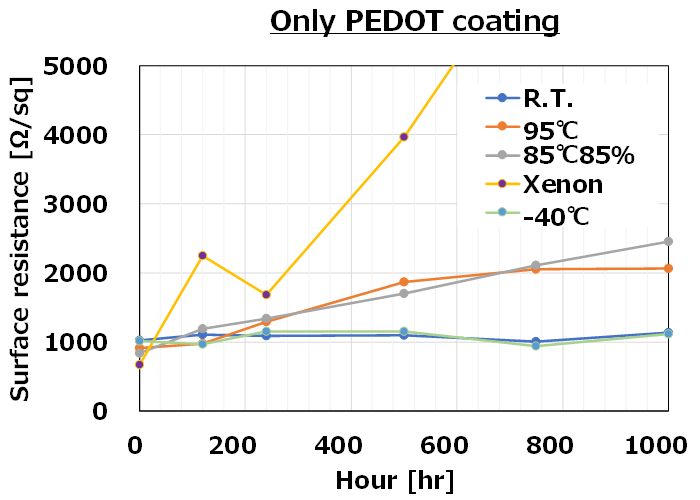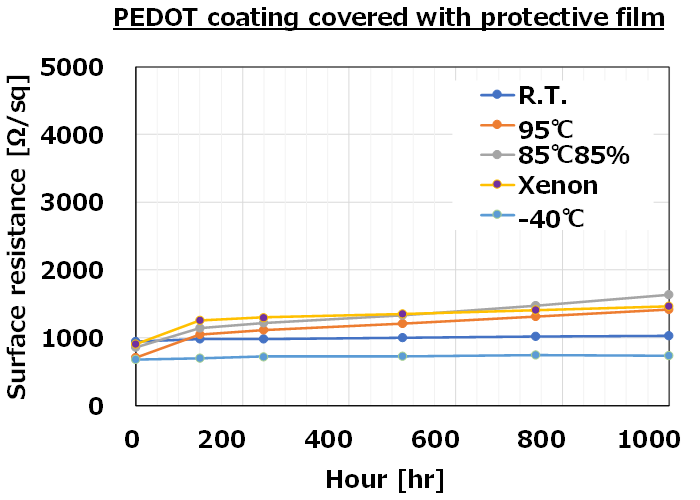 Metal oxide "ATO"
Transparent conductive material of dispersed nanosized ATO particle
Adjustable ink composition to various wet coating conditions
High transparency, resistance stability and high reliability "high temperature resistance,  humidity resistance and weather resistance"
Refractive index of conductive coating being very close to that of substrate and adhesive
Ink properties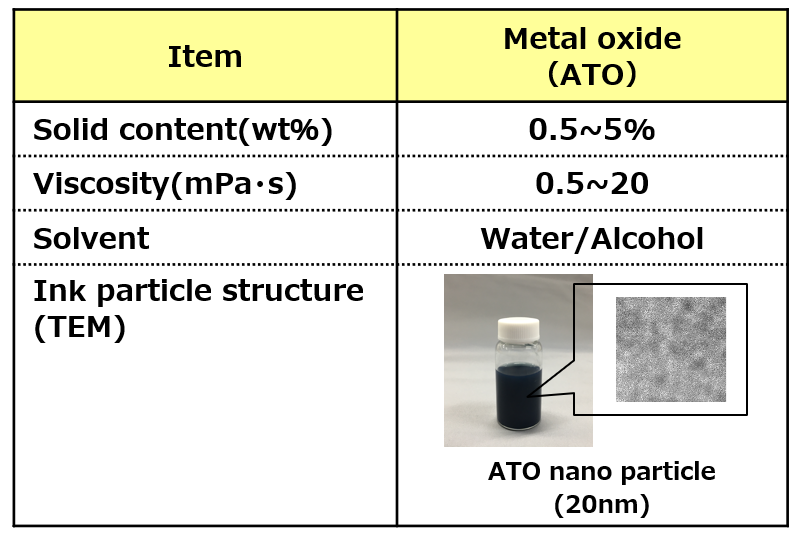 Coating properties