Coated separator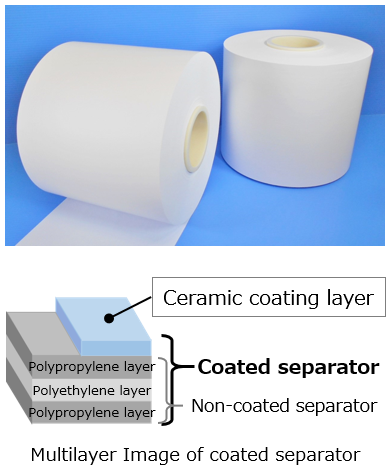 Ube Maxell Kyoto manufactures ceramic coated separators.
By coating the separator, which is a component of lithium-ion batteries, it contributes to the improvement of battery characteristics.
Ube Maxell Kyoto offers double-sided coating, adhesive function, and thickness options according to your needs. For more information, please contact us using the form below.
Ube Maxell's "high-performance coating type separator" is installed in Toyota's 4th generation "Prius". (Japanese)
Excellent heat resistance
Coated separator retains its original appearance after heating.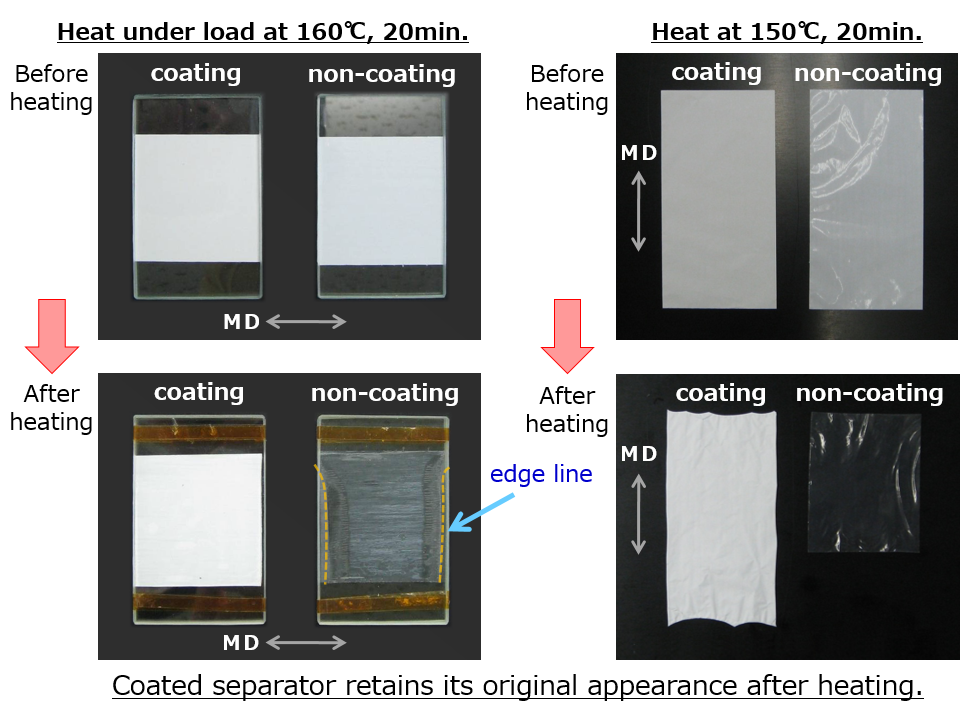 MD : Machine direction of separator
Excellent short circuit resistance
No significant changes in battery surface temperature and voltage are seen after a pseudo internal short circuit.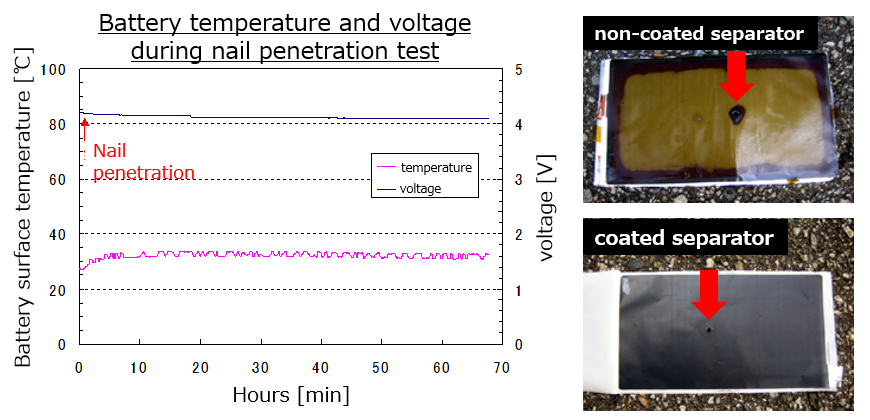 temperature : ambient
condition :

4.2V fully charged state
nail dismeter 2.75mm
nail speed 50mm/sec
hold for 1 hour after penetration (with nail stuck)

configuration : 10Ah laminated cell
Retaining the shutdown characteristics derived from the non-coated separator
Even if the non-coated separator melts down at around 195℃, the coated separator does not break even at 200℃ or higher and maintains insulation resistance.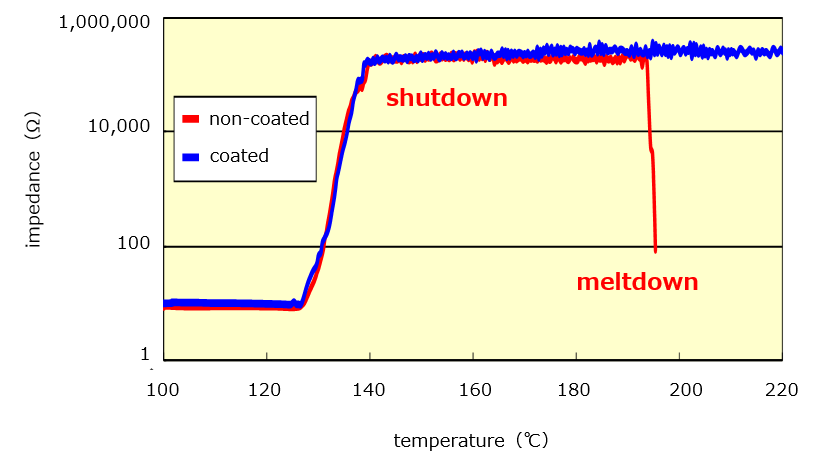 Boehmite is used for ceramic fine particle. Even with the same coated separator, the battery weight can be lightened and the risk of metal wear debris can be reduced.
(1) Boehmite has a lighter specific gravity than alumina, and the battery weight is lighter.
   Boehmite (AlOOH) : 3g/cm3
   Alumina (Al2O3) : 4g/cm3
(2) The hardness of boehmite (Mohs hardness = 3.5) is softer than that of alumina (Mohs hardness = 9), and by reducing the wear of metal parts in production equipment, the risk of generating metal abrasion powder derived from equipment is reduced.
(3) Boehmite has a heat resistance of 350℃ or higher.
(4) We can propose boehmite shape and particle size according to needs such as delaying short-circuiting of positive and negative electrodes due to dendrite growth and improving lithium ion permeability.
Dendrite growth : Increased metallic resinous crystals deposited on the surface of the negative electrode when the battery is charged.​
Improved cycle durability with a coating layer
The coating layer prevents oxidation of the separator surface, which can be expected to improve cycle durability.
If there are variation in thickness, it is expected that there will be variations in characteristics, and it will be difficult to handle the separator, resulting in poor productivity for the customer. Applying evenly contributes to improving customer productivity.
Inquiry to Coated separator
For inquiries about coated separator, please visit the UBE Corporation website
Please refer to the link below for the non-coated separator