Precision Screen Printing Mesh
Unlike the woven metal mesh, it is one piece structure and high hardness Nickel which results less deformation and enables accurate printing in dimention.
Due to the flat structure, it has high degree of emulusive smoothness and enables the fine pattern printing.
High degree of smoothness makes thin-film printing possible.
 
α Mesh
β Mesh
#250 (2S)
#400 (4S)
#130 (Equivalent)
#400 (Equivalent)
Thickness
34µm+/-4µm
20µm+/-3µm
40µm+/-4µm
20µm+/-3µm
Hole dimensions
Hole size
62µm
37µm
160µm
47µm
Rib width
39µm
27µm
40µm
21µm
Opening ratio
37%
34%
63%
46%
Shaver
α Mesh SEM photo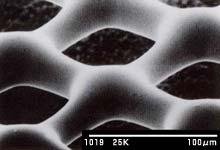 β Mesh SEM photo